CONFINED SPACE &
HIGH ANGLE STANDBY RESCUE
When your workers are potentially subjected to hazardous environments while involved with confined spaces or elevated work projects, protect them with the knowledge that the best on-site standby rescue service is just minutes away.
Under O.Reg. 632/05, it states that if your personnel are entering confined spaces, the employer must create a rescue plan and provide a competent rescue team or trained personnel that can perform an emergency rescue within a timely manner...calling "9-1-1" is no longer an acceptable solution.
Whether your facility is small and does not conduct enough confined space entries to warrant your own team or you just want to supplement your existing ER teams on an occasional basis (e.g. plant-wide maintenance shutdowns or multiple simultaneous entries), EHS Canada Inc. can assist and respond to your needs.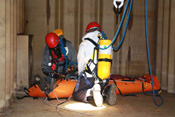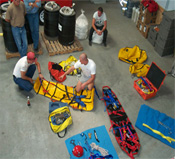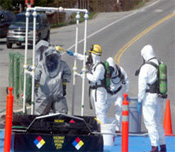 Contact us today to discuss your training needs and to see how we might be able to customize a program that adapts to and/or includes your policies and procedures.
24 Hour Service Available
Our professional confined space rescue teams are second to none. Comprised of highly trained and experienced rescue personnel EHS Canada Inc. can supply your company with teams that are fully equipped to perform rescues.
Our professional high angle rescue teams have the necessary training, technical rope skills and experience that come with the territory and utilize state-of-the-art rescue equipment that meet or exceed National Fire Protection Association (NFPA) standards. Contact us today to schedule a rescue team for your upcoming project.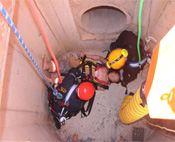 INDUSTRIAL & RESCUE TRAINING
EHS Canada Inc. prides itself on being able to provide industry leading and cost effective industrial, rescue, health & safety courses to its clients.
EHS Canada Inc. uses the knowledge of industry experts and emergency rescue professionals to facilitate the courses required to fulfill the clients training voids.  All of the courses offered are up to date using the most current OHSA, WSIB or NFPA standards, guidelines or regulations.
These courses include but are not limited to:
Confined Space Awareness
Confined Space Entry
Confined Space Rescue
Technical Rope Rescue
High Angle Rescue
Trench Safety Awareness
Trench Rescue
Fall Protection / Working from Heights
SCBA Respirator with Fit Testing
Standard First Aid / CPR / AED
JHSC Cert. – Part 1 & 2
Transportation of Dangerous Goods (TDG)
Lock Out / Tag Out (LOTO)
WHMIS
Forklift
Indoor Overhead Crane
Sr. Management (HSL and Due Diligence)
Hazard Recognition, Assessment and Control
Accident Investigations
Workplace Inspections